Inner Sanctum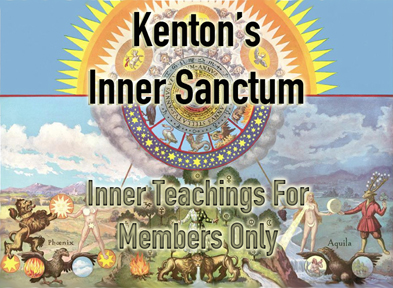 "Kenton's work has been almost single handedly responsible for much of the 'new' mentalism of today." - Bob Cassidy
"This has been the greatest decision I have made in a long time becoming a member of Kenton's Inner Sanctum. I highly recommend this to any serious performer of magic, mentalism and/or the mystery arts. Kenton Knepper is the man... Join him today!" - Tommy Burnett, New York City
"Kenton's courses are a way to truly understand how to deeply communicate with people, not merely learning tricks to ​fool the public. It's this knowledge that changes the dynamic from a competition to an interdependent experience. In the end Kenton's training is the difference between an hour of light entertainment and a life-long memory of a special event." - Dave Bilan
"I have been an inner Sanctum Member now for 12 months. Thank you for your teachings and direction. My thinking has evolved and my performances have gone to the next level as a result.
With the use of Wonder Words, Completely Cold, the MANY teachings in the INNER SANCTUM and your other works, I have connected with real people in the real world in a meaningful way.
I have been able to raise my awareness, not only of language, but with the real emotions people feel with my readings and performances.
I have literally made a grown man cry and have been applauded for my ability to connect with entire rooms of people.
One of my favorite compliments came from a group of seniors. That was a huge day for me. That is, they appreciated the meaning that my magic and mentalism underlined; they did not praise the effects or the "tricks" but my ability to connect with them!
For all this and more I thank you. Thank you, Kenton."
- John Roldan, Inner Sanctum Member
"I have decided to be deeply involved with mentalists and magicians who really care about my work and principles from now on, only. Now I want to spend time only with mystery performers who are passionate about intelligent, emotive, ground-breaking, mentalism and magic, and want to learn the deeper aspects of my work.
You told me you wanted to learn my concepts at a greater level. You wanted me to take some of my most powerful concepts and have me show you secret insights and details about these ideas. You also said you wanted to be able to ask questions, talk to other Students of my work, and have a more intimate interaction with my Students and me. You told me you wanted an extended interview with me about each principle I felt was vital to performance.
From the input of everyone who seriously wants to learn more about my work directly from me, we have developed the Inner Sanctum Membership Program. We'll investigate more deeply my classic principles and works, and you will get my latest insights and applications of these, and more." - Kenton Knepper
Kenton continues to work with mentalists and magicians solely through his Inner Sanctum program now.
Kenton's Inner Sanctum is a yearly or monthly membership program.
With The Inner Sanctum Membership Each Month You Get:
* A main monthly focus or topic.
* 2 or more pieces of Kenton's original applied psychology principles and excerpts from previous works. Kenton will focus in on specific areas of his work, so you can understand these better than ever before.
* 1 or more effect related to the principles or concepts, so you can learn in a practical way how to apply these principles of applied psychology to your own performance.
* Study guides to help you recall and apply the ideas discussed, that lead you through your own person journey of Kenton's works.
* Access to a Members Only chat area (on Facebook, so you will need a Facebook account) allowing you to talk about these principles with other Students, post questions for Kenton, ask for future monthly topic discussions, and with occasional visits and input from other well known names in magic and mentalism.
* First chance and members only access to special materials or rare releases.
Each month will be a different set of teachings. Each month you gain access to a new set of materials to keep as long as you like on your online Members page. New file access will appear to the next month's lessons and secret files will appear about 30 days after your previous files.
We highly suggest you get in as soon as you can, to catch as much of these interviews and teachings as possible. Each month brings a new set of applications, study guide, interview, etc.
Membership is a recurring payment, either monthly or yearly. You may cancel at anytime. If you cancel, all access will be revoked. Only current paid members will have access to new files, interviews, membership chat area, and other privileges.
If you cancel a yearly subscription this means you will not be renewed for the next year. Yearly subscriptions are for a full year from purchase date, not a partial year, and may be canceled by the end of the paid year. You will be paying for only 10 months, not 12, with your yearly subscription, so you get TWO MONTHS FREE with a yearly subscription.
Monthly subscriptions can be canceled at the end of a payment cycle.
We have made access incredibly affordable so anyone who really cares to learn directly from The Master his original principles and applications, with all the insider information, can do so easily.
For Review Then:
Charter Monthly Membership (Renewed Monthly) - $24.97
Charter Annual Membership (Renewed Once A Year) - $250.00
You get two months free when you go for the Yearly Membership.
You may cancel at anytime. Cancel by the end of the terms of your renewal to be sure you will not be charged for renewal in the next month or year. We cannot cancel retroactively, but we will be sure to cancel you right away if you so choose, so you will not be charged for the month or year to come. If you sign up for one year you will be able to cancel at anytime to not be charged for the next year. Yearly memberships cannot be refunded but may be canceled before the 365 days of your membership, so you will not be charged for the next 365 days.
To be considered for acceptance into this program, you will need to submit a two to four sentence paragraph on why you feel you are ready for entrance into this program. Send your short paragraph in an email to: info@wonderwizards.com after you choose your membership option and payment below.
If you are not approved for entrance into this program, your payment will not be processed. If you are accepted, your payment will be processed (and appreciated) and your access Kenton's Inner Sanctum will be granted. Look for an email coming from us for details, access to your files, invisible Membership gathering on Facebook and more.
This is rare access to the Master Kenton Knepper. You will have insider perspectives on how to use his methods, how Kenton's works should really be applied, organized, and put to use. The only way to get this sort of inside access to Kenton costs thousands of dollars, unless you can get approved to the Inner Sanctum. This is your chance.
We open and close access to the Inner Sanctum in short spurts, and only rarely do you get a chance to apply to be accepted. Now is the time. Apply while you can by choosing a monthly or yearly Members access today and become one of the rare select few who are privy to Kenton and his deeper perspectives.
Question: I have all of the downloads and everything Kenton has ever put out. Should I still join?
Answer: Many of our first members have almost everything Kenton has ever offered. This Members Only program helps you review Kenton's original works in bite-size pieces, as well as offers new ways to expand and apply Kenton's work and teachings. Many members say that having a way to be guided through Kenton's work alone is worth more than the price. You will get new insights, applications and interviews too. Your membership will help you apply and expand what you have already. People who do not have absolutely everything for certain will of course find this membership very useful as well, even if they are new to Kenton's principles.
Question I have an AOL account. I have heard there might be some issues with AOL
Answer: They call it "AOHELL" for a reason. AOL likes to block emails from the Inner Sanctum and devices we use. You'll still have access to everything, but to be sure to get all the updates and notices from us, we highly suggest you use a NON-AOL email. Just create a free one with Gmail or another free email provider. We have no control over AOL blocking emails from the Inner Sanctum. Just a suggestion from a couple Inner Sanctum Members.
"This has been the greatest decision I have made in a long time becoming a member of Kenton's Inner Sanctum. I highly recommend this to any serious performer of magic, mentalism and/or the mystery arts. Kenton Knepper is the man... Join him today!" - Tommy Burnett, New York City
Not everyone is approved to be accepted into the Inner Sanctum. If you are not approved, your money will be refunded within 24 hours and an email will be sent to you telling you that you will not yet be able to join Kenton's Inner Sanctum.
If you are approved, you will get an email welcoming you to the Inner Sanctum, telling you how to access your monthly lesson files, and the secret Inner Sanctum Facebook Group page.
Anyone who is thinking about training in one of Kenton Knepper's classes, do it! I can testify for Kenton's teachings. I performed a show recently, and everyone was convinced what I was doing was the real deal. I had people coming up to me after the show, talking about how they were working towards what I was doing through working real magik, even though most of what I was doing was effect. The lines were blurred, but they were convinced I was really a mind reading mystic. This was a repeat gig, the second year I performed it. After seriously studying under Kenton for one year, my magic went from looking like parlor tricks to the real thing. I highly recommend studying under him if you are serious about enhancing your performances. I stand by that 100%, and will openly tell anyone of this valuable experience. Kenton never asked me to say this about his teachings, but it is a true fact. I'm a way better performer from learning his material. - Brian Srota